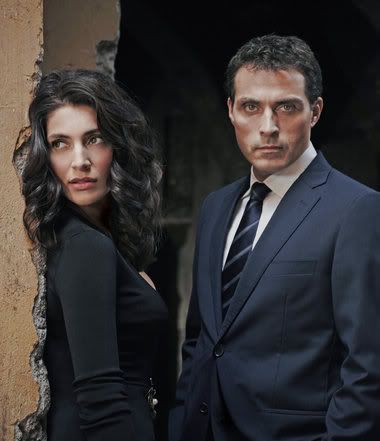 Several of the best shows on TV can be found on Sunday Nights. I myself watch True Blood, Drop Dead Diva, Curb Your Enthusiasm, Falling Skies, AND Masterpiece Classic. *I sincerely don't know how I manage it!* Sunday has always been home to "prime' television; speaking of which, Masterpiece Classic is not just for geezer and Anglophiles. I recall a certain Cookie Monster and his love of Masterpiece Theater (the name has changed since then). Just to name a few shows: Downton Abbey, Sherlock Holmes, Little Dorrit, Pride and Prejudice were all British production shown on PBS. I can say tonight's programming keeps in this good company.
Tonight is the second installment of Zen for Masterpiece Mystery. Rufus Sewell stars as the titled character. He's a snazzy detective solving crimes on the cobble streets of Rome. A man that can effortlessly rock an Armani suit deserves our attention.
In this story, it seems the majority of the Italian government officials are corrupt. Why accepting bribes for murder cases? Oh, just another day at the office. What's special about Aurelio Zen is his morale and uncharted honesty which makes him an outcast in his department. This trait makes him a choice target for criminals and colleagues alike.

The first chapter involves two murder cases that aren't so easy to solve. Nothing looks as it seems and our detective has to go digging for dirt

.

Zen has a romantic subplot with the married office secretary. Hey! Hey! The affair is (for lack of a better word) charming. She has a "complicated" relationship. For once, an adulterer doesn't act like a total sleazebag.
The first episode ("Vendetta") is currently streaming at on the PBS site. I thoughly enjoyed this series because it felt like what a "mystery" was suppose to be. *Also, it fills the void left by Downton Abbey until that comes back in January.* I encourage you to take a look for a stylish thriller mixed with splashes of intrigue, romance, and comedy. Zen still lives with his mother. A man on the brink of 40 and doesn't have his own place. Yeah, that is sure to provided entertainment (or a sad reminder for some.. Sorry, fellas!)
Masterpiece Mystery - Zen: "Cabal" airs tonight on PBS at 9pm (check your local listings.)