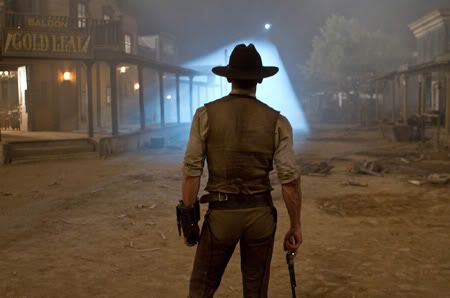 Cowboys Vs. Aliens
Indiana Jones and James Bond… Harrison Ford, Daniel Craig, and Olivia Wilde star in the sci-fi western fighting against, you guessed it, visitor's from outer space. Who knew these kind of movies were even possible? Now don't groan just yet, Iron Man director Jon Favreau has a "big name" cast with material from the original comic book series. This may be a winner. Expect sold out screenings.

(Rated PG-13)
Crazy, Stupid, Love
I'm shaking with anticipation to see this rom com staring Steve Carell, Ryan Gosling, Emma Stone, Julianne Moore, Marissa Tomei, and Kevin Bacon. When's the last time we've seen an ensemble like this? Ryan plays a ladies' man taking Steve under his wing to show him how to get back into the game after discovering his wife had an affair. I'm expecting this to be a rom com with actual substance. *

Are you listening Katherine Heigl?

* (Rated PG-13)
They're tiny, annoying, and will have every kid wish they were blue too. This family flick starts Neil Patrick Harris and Glee's Jayma Mays. (Rated PG)
The Future
Miranda July (director/actress/writer) and
Hamish Linklater star as LA couple in this quirky drama. As shown from the trailer, their newly adopted cat recites the story of a couple and challenges they

face. Now, I've never seen any of Miranda's other films but for some reason I am drawn to this unique narrative.

It may be my unexplained love for Hamish. *

Side note: seen him twice in Shakespeare in The Park and he's phenomenal!

*

(Rated R)
The Devil's Double
Dominic Cooper (remember this name) plays lead in the true story of a man who fell into the treacherous life as the body double for Saddam's son. Cooper's perfomance has been hailed as a "must see."
(Rated R)
The Myth of An American Sleepover
This highly acclaimed movie has been said to realistically portray today's youth as they live life in the social media era. (Not Rated)
The Guard
Don Cheadle stars as an Irish cop working on an dangerous drug case.
(Rated R)
Attack The Block
I keep receiving emails inviting me to screen this movie! Teens vs. aliens in England? I'll stick to Falling Skies.
(Rated R)
Good Neighbors
Neighbors work together to avoid a killer at large.
(Rated R)
Life in A Day
This Sundance loved YouTube film from amateur directors around the world chronicalizing a day in their lives.
(Rated PG-13)