The Adventures of Pete & Pete, Double Dare, Rugrats, Doug… I can go on for hours about the good olden days of classic Nickelodeon. For the first time ever, the 80s/90s series Hey Dude is on DVD for your home collection. Hey Dude wasn't my favorite but I do hope Nick continues to put these nostalgic shows on DVD. Secret World Of Alex Mack viewing parties? Oh, I am definitely there.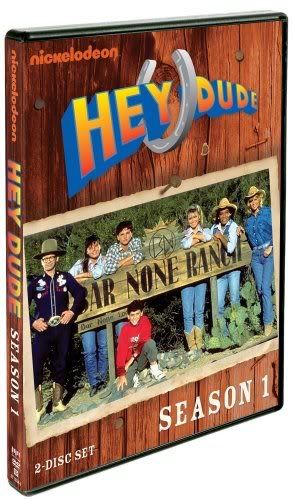 Just the news of this DVD got me thinking of being younger and the excitement associated with watching Nick. Do you remember SNICK? The two hour block of new shows on Saturday nights. *Side note: It was the perfect companion to T.G.I.F. on ABC which included Boy Meets World!* I loved All That! I even had the album soundtrack. (No joke, there were some jammin' 90s R&B and Hip Hop songs.). I can remember watching Kenan and Kel after badly rapping to Coolio's theme song. I mean no one loved Orange Soda more than Kel. I do, I do, I doooo! Oh, even thinking about Are You Afraid of The Dark? scares the crap out of me today. I'm crossing my fingers for the next DVD to be Salute Your Shorts. A group of misfits together at camp was an oasis for my old teeny-bopper self.
When I switch back to Nick now, it's seriously confuses me. What is this iCarly? Big Time Rush? Bucket and Skinner's Epic Adventure? Apparently, this is a show about surfers. I mean WTF? Is the production team smoking crack? Surfers? I think it would've been more plausible to call it Bill & Ted's Excellence Adventure: The Beach Prequel. It's uncanny how the Skinner acts like a young hopeless Keanu Reeves (Wait, Keanu and hopeless aren't similes?) I can't image how the kids today watch this "entertainment." What happened to The Mystery Files of Shelby Woo or Global Guts? As for animation, no luck in quality there. What the hell is a T.U.F.F. Puppy? Every morning The Penguins of Madagascar is on excessive repeat. Whatever happened to Hey Arnold! or I'll even take Muppet Babies?
Okay, it's fair to say that Ren & Stimpy wasn't what we call "educational" or even "appropriate for children" but everything else on Nick could still be played today. I can say that I do enjoy an episode or two of SpongeBob Square Pants and Fairly Oddparents but after an hour I am DONE. I think this is why cable has so many channels because variety is not only wanted but needed. I'm pretty sure kids now watch programming for older audiences because they are bored with their limited channels. No wonder my 10-year-old cousin watches Syfy instead of Cartoon Network!
Good news is that Nick recognizes the love and is bringing "The '90s Are All That!" starting tonight on TeenNick. Your favorite shows will air Monday through Sunday from midnight to 4:00 a.m (ET). I know I can't wait to fill my DVR with episodes of Clarissa Explains It All. Dear Nick programmers, from me to you – thank you!