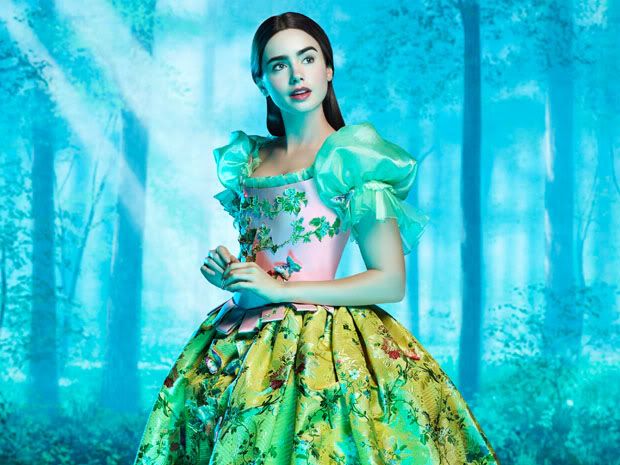 Straight from Comic-Con, Lily Collins is seen here as the no-so-lucky-with-fruit-beauty in director's Tarsem Singh's The Brothers Grimm: Snow White. Julia Roberts plays her wicked stepmother which will be a sight to see. I'm eagerly awaiting those pics. What's interesting is that there will be TWO Snow White movies next year. Kristen Stewart will also be playing the title character in Snow White and The Huntsman. Charlize Theron plays her evil stepmother and Thor's Chris Hemsworth has been cast as the hunter. Fairy tales are all the rage in Hollywood. Besides, two upcoming movies – ABC's new series Once Upon A Time features Ginnfer Goodwin as the Snow White.
It's like Friends With Benefits vs. No Strings Attached or Infamous vs. Capote. Hollywood hasn't learned the lesson yet. One of these films will fail because the story will be burned out excessively.
The Julia Robert film is set for a March 2012 opening and it seems to have that earlier release date advantage. Yet, it's too early to say which movie will be the clear winner because you can't doubt the allegiance of Twilight fans ready to watch K.Stew. Yes, "allegiance" is the right word for it.
Woah, woah, woah! After just one day with news of the fairest in the land, Kristen Stewart's
Snow White and The Huntsman
film released publicity photos at Comic-Con. It's a completely different ball game. Kristen is dressed in armor just like Alice in Tim Burton's
Alice in Wonderland
(the film has the same producer). The storyline will have the title character fight against the evil queen with the help of EIGHT dwarfs. Dressed as a warrior, she looks well equipped. Check out the other photos as well. Charlize Theron looks deliciously sinister and Chris Hemsworth appears rugged as The Huntsman. Quite riveting as it's looks to become a grimly dark fairytale. I guess the happy frolicking Disney days are gone! I must say I do miss when the princess' would break out in random song but it seems I'm the only one partial to the girly classics. *Someday My Prince Will Come*