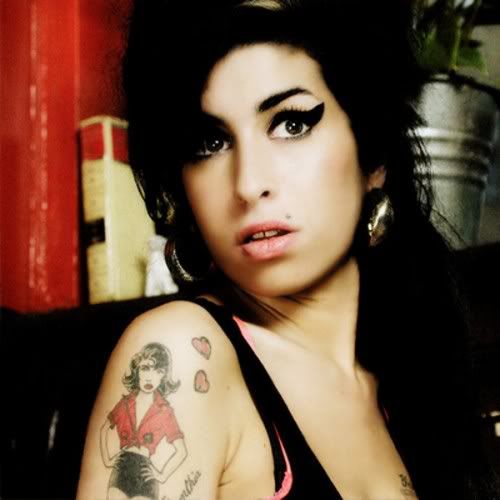 "I didn't go out looking to be famous... I'm just a musician."
A tragic day for the music industry, powerhouse vocalist Amy Winehouse died on Saturday in her London flat. Details are still pending but drugs are suspected as foul play. Much has been said since she hit the airwaves in 2003. Innovator, addict, troubled, talented, and genius are some adjectives being thrown again today. Her battle with abuse and drugs continued throughout her life but we shouldn't let it deter from why she became famous: that distinctive voice. Her album, Back To Black, won 5 Grammys including Best New Artist. A successful career awaited her but life had different plans.


Her troubles started early after drunken performances and fights with photographers/fans. Amy also admitted to cutting herself in various times of her life. Worst, her Ex-Husband is to blame for introducing her to crack and heroin. You think after almost overdosing in 2007 and learning that she showed the early signs of emphysema in 2008, her problems would cease to exist. During the past year, she was on a downward spiral. She left rehab early only after two weeks in May. Forget the fact that she dowsed a small bottle of vodka on the way there. She rushed the process to go on tour. Her concert at Serbia (in which she was over an hour late and drunk) was dubbed "the worst in the history of Belgrade" and led to the cancellation of the rest of the European tour. Her last appearance was only 3 days ago at the London iTunes Festival to support her goddaughter and new artist, Dionne Bromfield. Unfortunately, she passed away and without a determined cause of death. Eerie enough, Amy is now a member of the "27 Club." Jimi Hendrix, Janis Joplin, Jim Morrison, and Kurt Cobain are all musical artists that died at the young age of 27.


How could you not know about Amy? Her songs were on every genre of radio stations. The nickname "Wino" was ironic label. Her beehive bouffant hairstyle, black winged eyeliner, and tiny clothing was and still is a favorite among women for Halloween. We shouldn't forgot how she impacted society, music, and fashion in such a short time. She influenced everything from Vogue Paris to Chanel runways to even movies. She had a signature style and attitude. Adele, Duffy, and Lady Gaga even credited Amy as opening the door for artists.
It bothers me that her personal life overshadowed her talent. I love her music. Dynamic lyrics mixed with 1960's soul was the soundtrack to my life in 2006. "You made me miss the Slick Rick gig" is one of my favorite lyrics. I eagerly waited for her follow up. She did a single here and there but no real album. I'm so disappointed in how her story ended. Yes, she had numerous issues but we all do. I won't judge her sins. I can't believe she's gone. I always thought she'd have the greatest comeback in history. At least, she's finally at peace. I'll imagine her singing Motown hits with the deceased Marvin Gaye, Tammi Terrell, Sam Cooke, and Mary Wells. She's not here but her music will be played for years to come.


Will You Still Love Me Tomorrow
To Know Him Is To Love Him