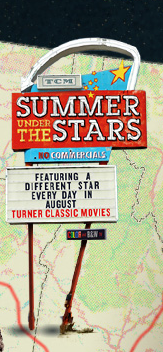 For the past few years,
Turner Classic Movies
has delighted viewers with a month programming full of Classic Hollywood Icons. This month continues this schedule with TCM showing 24 hours of one movie star. I love "Summer Under The Stars" but regret the limited space on my DVR. How can I choose between a Carole Lombard or James Stewart film?
Oh, the madness
!
August started with Marlon Brando but there are many more to come. The rest of the month's line up is below. I would generally recommend some more films but I just can't. There are so many amazing films from each of theses actors. I am completely overwhelmed! I've put their most notable or (in my opinion) best films in parentheses for easy reference to watch over the month.


His Girl Friday playing on 8/14

8/4 – Ronald Colman (Random Harvest)
8/5 – John Garfield (The Postman Always Rings Twice)
8/6 – Lucille Ball (The Long, Long Trailer)
8/7 – Charles Laughton (The Hunchback of Notre Dame)
8/8 – Orson Welles (A Touch of Evil)
8/9 – Ann Dvorak (Scarface)
8/10 – Shirley Maclaine (The Apartment)
8/11 – Ben Johnson (She Wore A Yellow Ribbon)
8/12 – Claudette Colbert (It Happened One Night)
8/13 – James Stewart (Mr. Smith Goes To Washington)
8/14 – Ralph Bellamy (His Girl Friday)
8/15 – Lon Chaney (The Phantom of The Opera)
8/16 – Joanne Woodward (Paris Blues)
8/17 – Humphrey Bogart (To Have or Have Not)
8/18 – Jean Gabin (Pepe Le Moko)
8/19 – Debbie Reynolds (Singin' In The Rain)
8/20 – Montgomery Clift (From Here to Eternity)
8/21 – Cary Grant (The Philadelphia Story)
8/22 – Joan Crawford (Mildred Pierce)
8/23 – Conrad Veidt (Casablanca)
8/24 – Joan Blondell (Gold Diggers of 1933)
8/25 – Burt Landcaster (Sweet Smell of Success)
8/26 – Peter Lawford (It Should Happen To You)
8/27 – Linda Darnell (A Letter To Three Wives)
8/28 – Carole Lombard (My Man Godfrey)
8/29 – Anne Francis (Blackboard Jungle)
8/30 – Howard Keel (Kiss Me Kate)
8/31 – Marlene Dietrich (Blue Angel)