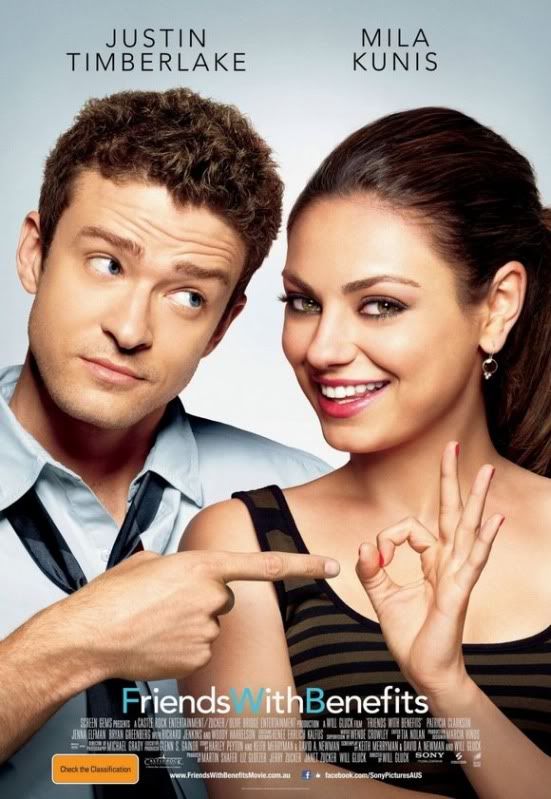 Justin Timberlake and Mila Kunis play Dylan and Jaime in this non-traditional rom-com. Beware folks, they are not just eye candy! *Gasp* These two have qualities that truly validate their movie star value. Who knew that
little mouseketeer/boy band
singer had the acting abilities for a leading man? Same with Ms. Kunis who was underused on
The 70s Show
. I can now say: I am a fan of both these actors and would see a movie
for them
!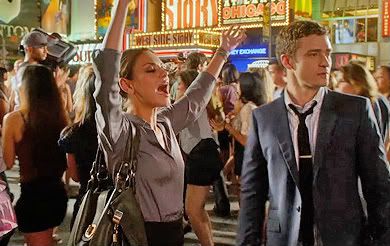 Set in NYC, Dylan and Jaime become fast friends after Dylan accepts a position at GQ Mag with the help of headhunter Jaime. Unfortunate for both, they don't have the best luck in relationships *WHAT?! ARE YOU KIDDING ME? HAVE YOU SEEN THESE THEM?* So, "emotionally unavailable" Dylan and "emotionally damaged" Jaime decide "what the heck, let's have just have a physical relationship but without all the messy stuff." We all know how this ends. You may know how the story goes but watching these actors is worth the two hours. The chemistry between Mila and Justin is a tangible fun fest. Given Mila's recent defensive of Justin at a Russian press conference, you can tell these two are friends on and off the screen. There is endless witty banter between the couple. I think this is why it's A) so believable and B) so realistic. I mean Natalie Portman and Ashton Kutcher are good one their own but together in No Strings Attached - I just wasn't buying it. *Seriously, in what world?*
Easy A
director Will Gluck once again elevates a film. Let's face it: this is the 2nd movie of the year to have a "you-know-what-buddy"storyline.
Friends With Benefits
has by far received better reviews and is on it's way to making more money at the box office. The small touches in comedy are essential here. From the silly humor about 90s music to Jaime screaming at a Katherine Heigl poster for being a liar. Thanks to this movie, I think the one of the greatest breakup screens is created. It involves a John Mayer concert ("The Sheryl Crow of Our Generation") and a beloved Emma Stone freaking out and screaming over "Your Body is a Wonderland."
PRICELESS.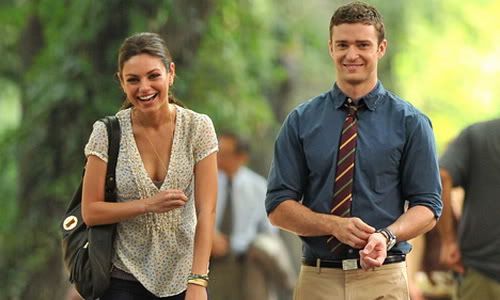 The subplots are a bit less interesting. I think Richard Jenkins is an amazing actor *Go rent
The Visitor*
but not as Dylan's father with Alzheimer's. I feel like the writers needed to fill that "drama-tearjerker" void. I couldn't gone without it. Patricia Clark as Jaime's hippie mom provides a kooky comedic touch. She was enjoyable on screen but her flaky mom story was a bit blah, blah, and then blah. Woody Harrison is great as a gay sports writer. I can't believe some of his quips. I miss him in comedies. Come back, friend! Also, I can't forget Bryan Greenberg (
How To Make It In America)
as a dreamy doctor. Even as a jackass, I still love watching him. Oh, please don't be fooled by the trailer - Emma Stone and Andy Samberg only make brief appearances in the 1st five minutes of the film!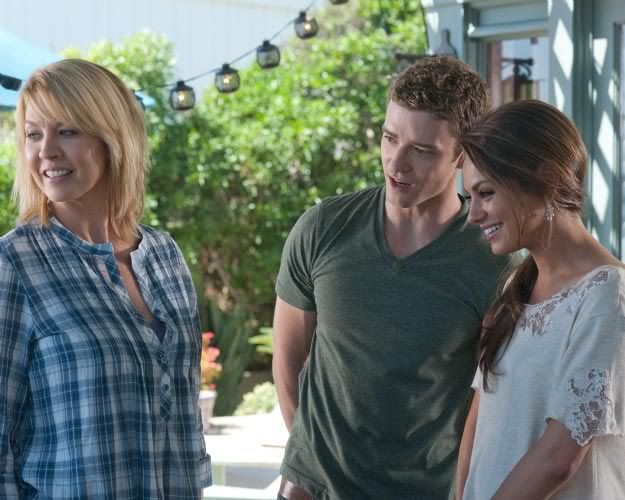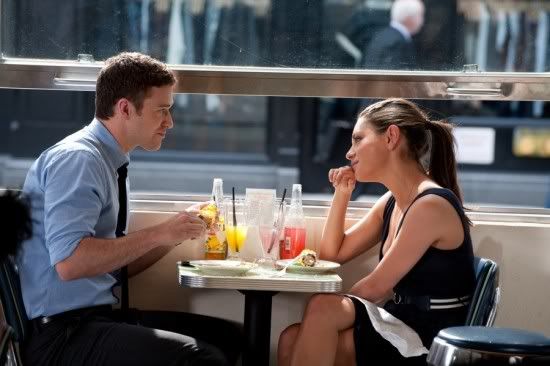 I was shocked at how much I enjoyed this film. I have no faith in the average romantic comedy these days. I would describe this film as "cute" - NOT "mediocre. " I was pleasantly surprised by Friends With Benefits; even though, I wouldn't say go rush to the theater for it. However, don't get it twisted! I wouldn't put it near the Katherine Heigl rom-com for losers.
VERDICT: SEE IT or NETFLIX IT