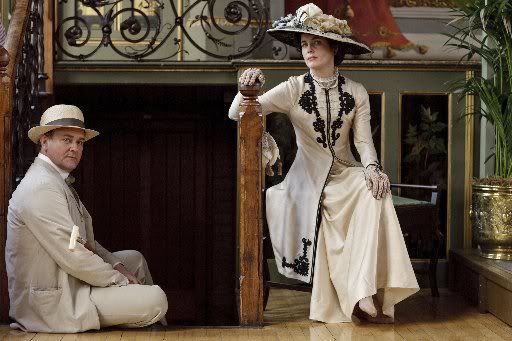 Downton Abbey
season two is set to air this week Sunday Sept 18 in ENGLAND. We, Americans, have to wait 8 long weeks in January to see where Lord Grantham's family left off. I am beyond ecstatic to see this series. For those newbies, please watch the first season on Netflix immediately. It's about 7 hour episodes. (
It goes by quickly, I promise!)
Downton Abbey
is set in the early 20th century after the sinking of the Titanic. It follows a distinguished noble family and their servants. The series left off with the announcement of WWI, which undoubtedly will affect this family.
What's great is it doesn't entirely feel like a period piece. The stories hit close to home. This is not an old lady's cup of tea because there are some sassy (YES, sassy) characters and scandalous turns of events. Romance, action, backstabbing, and comedy... What more can you ask for? And it's on PBS!!
There's a great article on the
NYTimes
site about Julian Fellowes, the creator. I highly recommend to get a glipse of the new season.