Jane Lynch did a good job of hosting this year. I must admit the opening number was TOO long but it was tolerable. Ms. Lynch is a great comedianne and wonderful chemistry with the audience. I felt the famous "Emmytone" singers on the side with Joel McHale, Wilmer Valderrama, Cobie Smulders, Zachary Levi, and Taraji P. Henson was a complete waste of time and not even remotely funny! The
SNL
musical number was a bit cringe worthy when you think of the censors that do watch the Emmys; regardless, it was entertaining. Poor William H. Tracy getting humped by The Lonely Island was a sight to see.
Highlights:
* I'm excited that
Modern Family
won so many awards because lets face it – it's one of the best shows on TV!
* My favorite moment was when all the ladies nominated for Best Actress in comedy walked up or stormed up on stage. I see Amy Poehler was brains behind that shenanigan and it was hysterical!! I feel like Melissa McCarthy won for
Bridesmaids
but she sure does deserves it. So great to see her in a crown and as a pageant girl.
* I was excited for Peter Dinklage who is AMAZING and too funny in
Game of Thrones
as a supporting actor.
* Jane's Jersey Dontella skit was priceless with her "Jersey's taking over." I only wish it was longer.
* It was wonderful to see Kyle Chandler win for
Friday Night Lights
which is loved by many but doesn't have much love from the awards.
* I LOVED that
Downton Abby
won!!! Woo!! Maggie Smith as well AHHH!!! It's just an outstanding and epic series.
* HBO's
Mildred Pierce
won Best Guy Pearce who was charming and deserving as the best supporting actor. Kate Winlet is one of the best actresses ever so her wining is just the heaven. She's so frigging sincere and sweet. She's on her way to EGOTing!
* I have to point out that Kerry Washington did a Jessica Rabbit and looked stunning (just wish the bottom wasn't sheer). I know the fashion trend was Red with Kate Winslet and Nina Dobrev looking ravishing but my favorite for some reason was Claire Danes in Oscar De La Renta. It was unique and refreshing. I'm tossing between love and hate with Gwyneth Paltrow in Emilio Pucci. She was taking a major risk with her short midriff but that's what fashion is about.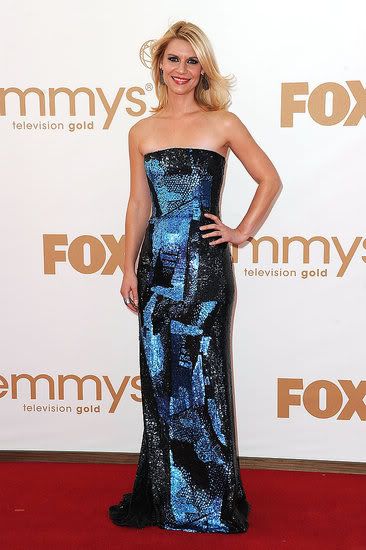 Lovely Claire Danes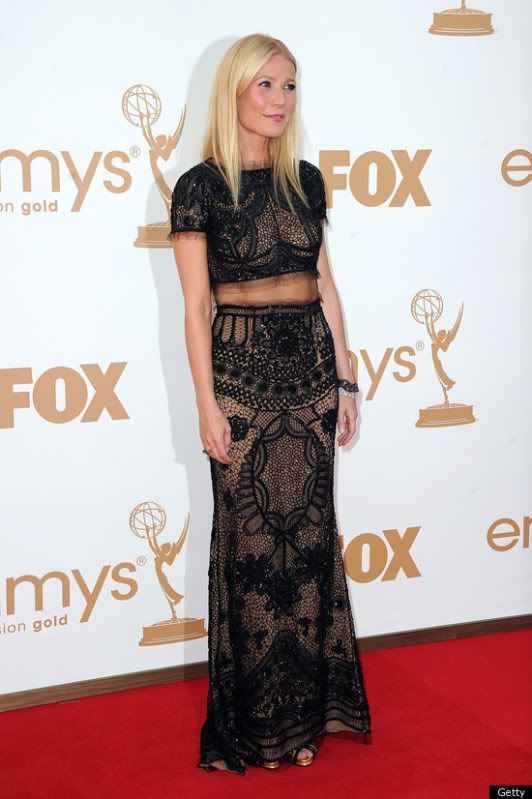 Mrs. Chris Martin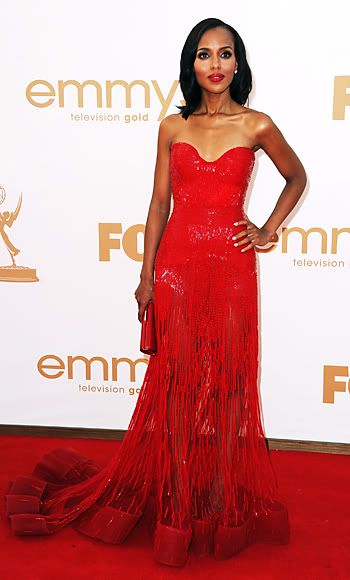 Mrs.Rabbit - I mean Kerry Washington
My overall feeling: it was a fun night full of surprises. However, I just wish they'd cut the show. Why is it 3 hours long?!
For all the winners. Check out below:
Outstanding comedy series:
Modern Family

Outstanding drama series:
Mad Men
Outstanding miniseries or movie:
Downton Abbey
Outstanding lead actress, miniseries or movie: Kate Winslet, Mildred Pierce
Outstanding supporting actor in a miniseries or movie:
Guy Pearce, Mildred Pierce
Outstanding directing for a miniseries, movie or dramatic special: Brian Percival, Downton Abbey
Outstanding lead actor in a miniseries or movie:
Barry Pepper, The Kennedys
Outstanding supporting actress, miniseries or movie: Maggie Smith, Downton Abbey
Outstanding writing for a miniseries or movie:
Julian Fellowes, Downton Abbey
Outstanding lead actor, drama:
Kyle Chandler, Friday Night Lights
Outstanding lead actress, drama:
Julianna Margulies, The Good Wife
Outstanding supporting actor, drama: Peter Dinklage, Game of Thrones
Outstanding directing, drama:
Martin Scorcese, Boardwalk Empire
Outstanding supporting actress, drama:
Margo Martindale, Justified
Outstanding writing, drama series:
Jason Katims, Friday Night Lights
Outstanding variety, music or comedy series:
The Daily Show with Jon Stewart
Outstanding directing for a variety, music or comedy series: Don Roy King, Saturday Night Live (host: Justin Timberlake)
Outstanding writing for a variety, music or comedy series: The Daily Show with Jon Stewart
Outstanding reality competition: The Amazing Race
Outstanding lead actress, comedy:
Melissa McCarthy (Mike & Molly)
Outstanding lead actor, comedy series: Jim Parsons, The Big Bang Theory
Outstanding writing for a comedy: Steve Levitan, Jeffrey Richman ("Caught in the Act"), Modern Family
Outstanding director, comedy:
Michael Alan Spiller ("Halloween"), Modern Family
Outstanding supporting actor, comedy:
Ty Burrell (Modern Family)
Outstanding supporting actress, comedy: Julie Bowen (Modern Family)